Long Distance
---
When traveling long distances, there are a few things you must take into account to assure a successful, safe and enjoyable trip. You need to make sure that the bus you are traveling is new, to assure that you will make it to your destination without a break down. Knightrider Buses that is selected for long distance are keep in a almost new state.
Second, you want to make sure that you are traveling comfortably. Knightrider buses are brand new vehicles, with plenty of leg room, high back reclining seats, climate contro, and a floating smooth ride. Also, to make your long trip seem short, there are many entertainment amenities such as flat screen TVs, DVD/CD player with surround sound,  and even complimentary WiFi.
Select buses are equipped with full length sky tops and electrical outlets for a beautiful and joyous ride. And lastly, you want to make sure that you get to your destination safely and efficiently, Knightrider bus will make that happen.
Knightrider Bus travels nationwide. Our buses have driven groups to Lethem , Berbice, Essiquibo, Northwest, Surinam, French Guyana, Brazil and we are willing to go even futher. Just tell us where you want to go, and we will handle the rest, you just sit back and enjoy the ride.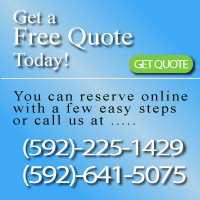 ---